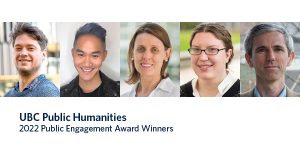 Congratulations to GSRJ Ph.D. student David Ng and his co-winner Henry John (History) on receiving the 2022 UBC Public Engagement Award.
The Public Engagement Award is given to individuals who have exhibited outstanding public humanities engagement in the past two years, and whose work has contributed to the expansion of the range of voices in public discourse. Congratulations to the winners.
The co-winners of the award to recognize the contributions of a graduate student are Henry John for his commitment to inclusive public history and impact on museum policy and governance, and David Ng for his innovative arts-based community-engaged research projects and impact in creating dialogue and understanding of issues faced by marginalized communities.