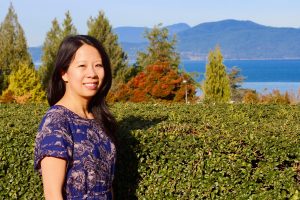 It is with immense sadness that we announce the passing of Dr. Y-Dang Troeung (張依蘭) (ទ្រឿងអ៊ីដាង), a much cherished collaborator, researcher, teacher, mentor and friend to many in the Social Justice Institute and the partner of our dear faculty member, Dr. Christopher Patterson. We fondly remember and celebrate Y-Dang's brilliance, generosity, wisdom and creativity, and send our condolences to Chris, her family members, friends and communities.
Dr. Troeung joined UBC as an Assistant Professor in English Language and Literatures in 2018. Her incisive scholarship in critical refugee studies, critical disability studies, and transnational Asian and Asian North American studies beautifully and passionately brings personal and familial narratives together with rigorous literary and cultural analysis to center the wisdom of refugee lives and knowledges for rethinking mainstream scholarly and methodological approaches. Her interventions have indelibly shaped the intellectual and political direction of these fields, and have been impactful and influential to many in the Social Justice Institute community. Prior to her passing, Dr. Y-Dang Troeung published her book Refugee Lifeworlds: The Afterlife of the Cold War in Cambodia (Temple University Press), and completed two forthcoming works: Landbridge, a family memoir, and Easter Epic, a short film. Along with being an insightful and creative scholar, Dr. Troeung was also dedicated to ethical, committed and responsible relations with community groups with whom she worked. 
A partial list of Dr. Troeung's scholarly works can be found below, beneath a tribute from her partner, Dr. Christopher Patterson (originally posted on Facebook).
The social Justice Institute has had the honor of witnessing and holding space for Dr. Troeung's brilliance through our Noted Scholars Series. In March 2021, she co-organized and co-moderated a roundtable discussion titled Pacific Borderlands: Sanctuary, Health and Precarious Migrants in British Columbia that featured speakers from local organizations who work directly with precarious local migrant communities. In October 2021, she co-presented with Dr. Thy Phu on the topic Refugee Archives across the Transpacific: Activating Anecdotes and Family Photography – A Conversation. Links to these talks can be found below.
We in the Social Justice Institute are profoundly thankful to Y-Dang for having been part of our community, and for the lessons she has taught us about social justice and care as twin core principles of rigorous and expansive scholarly practice. She is very deeply missed.
From Dr. Christopher Patterson:
I am sad to give this devastating news that I know will come as a shock to many. My partner and wife, Y-Dang Troeung (張依蘭) (ទ្រឿងអ៊ីដាង), died on November 27 after a long struggle with pancreatic cancer. She was a brilliant author, educator, and the most caring and loving partner, mother, daughter, sister, and companion. We have been dealing with her disease for over a year, and much longer without knowing it. Since her diagnosis, her life was enriched daily by friends and family, and we have felt lucky to have so many people come forward and support us with food, discussions, advocation, advice, and most of all, warmth and love. She leaves behind all these loving people, including me, our son Kai, her parents, brothers, and extended family. Her life has been a gift to all of us, and she leaves us with one of her greatest gifts: her book Refugee Lifeworlds. In the coming months, we will receive more gifts from her brilliant and compassionate mind: a short film, "Easter Epic"; a family memoir, Landbridge; and other projects she was able to complete before her death.
Meeting Y-Dang eight years ago was the most amazing and transformative moment of my life. She gave me optimism, hope, determination, and taught me how to love. I know she has impacted many in a multitude of ways. I hope we can keep her memory alive by reading and sharing her work and her words. Take care and know that Y-Dang, who fought and struggled and loved with intensity for all her life, is now at peace and at rest.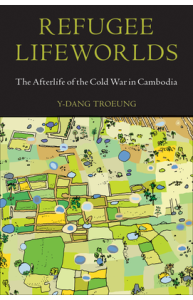 Dr. Y-Dang Troeung's Publications (Selections)
Books:
Journal articles and editorials:
Book Chapters in Edited Collections:  
Troeung, Y-Dang, Shirley Geok-Lin Lim, Christopher B. Patterson, and Weihsin Gui. "

Asian Literatures in English.

"

The Handbook of Asian Englishes

, Edited by Kingsley Bolton, Werner Botha, Andy Kirkpatrick (London: Wiley Blackwell (September 2020): 787-812. 
Creative Works:
Troeung, Y-Dang.

International Art/Photography Exhibition

, "

Remembering Cambodian Border Camps, 40 Years Later: An Exhibition at Bophana Audiovisual Center

," July 1-31, 2021. (Co-organized by Y-Dang Troeung with Bophana Audiovisual Resource Center, Phnom Penh, Cambodia).

Troeung, Y-Dang. Creative Non-Fiction Essay, "Boneyards of the Cold War." Brick: A Literary Journal 105 (Spring 2020).

Troeung, Y-Dang, with Vicky Do. Short Documentary film, "Surfaces: a film documentary." May 23, 2017. Available online:

https://www.youtube.com/watch?v=VeWDSY43Z3s&feature=youtu.be

. 

Troeung, Y-Dang. Radio Documentary, "The Lucky One Returns." CBC Radio-Canada, Aired May 19 & August 14, 2009.
Forthcoming:
Troeung, Y-Dang, Creative Non-Fiction Essay, "from Landbridge."

Brick: A Literary Journal

110 (Fall 2023).
Troeung, Y-Dang, with Alejandro Yoshizawa, Short Film,

Easter Epic

, (film funded by the Canada Council for the Arts Concept to Creation Grant, scheduled for completion in the fall 2023).

Troeung, Y-Dang, Memoir,

Landbridge

, forthcoming, fall 2023. 
Links to other tributes: