The Social Justice Institute
Noted Scholars Series presents:
Dr. Y-Dang Troeung
Assistant Professor, English UBC
&
Dr. Thy Phu
Professor, Department of Arts, Culture, and Media, University of Toronto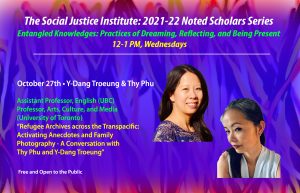 "Refugee Archives across the Transpacific: Activating Anecdotes and Family Photography – A Conversation"
Co-sponsored by: The Social Justice Institute and the School of Public Policy and Global Affairs, University of British Columbia
---
WHEN & WHERE
October 27, 12-1pm
on Zoom
RSVP for this event are now closed.
---
All events are free and open to the public.
How do we document the undocumented? Policy documents, legal briefs, administrative files, and so on feature refugees as objects of study. This conversation, however, will aim to shed light on the resources that refugees draw on to activate their own, personal archives, to enrich, nuance, and even counter the seemingly objective reports associated with the so-called humanitarian regime. Thy Phu examines how domestic images might help trace connections and estrangements, the visual kinships that tie family members dispersed by war and other forms of violence. Y-Dang Troeung turns to a discussion of the archives of Cambodian refugee life, considering the logic of "Cambodia's minor anecdoting" and the family anecdote as an interruption of this Cold War episteme.
---
Thy Phu is a Professor of Media Studies at the Department of Arts, Culture, and Media at UTSC. She is author and co-editor of five books: Picturing Model Citizens: Civility in Asian American Visual Culture; Feeling Photography; Refugee States: Critical Refugee Studies in Canada; Warring Visions: Vietnam and Photography (forthcoming in December 2021), and Cold War Camera (forthcoming Spring 2022). She is also Director of The Family Camera Network, a collaborative research project that engages local communities in the building of an antiracist public archive through the collection and preservation of family photographs and their stories. In 2017, she was elected as member of the College of New Scholars, Artists, and Scientists at the Royal Society of Canada. She is co-founder of the research group Critical Refugee + Migration Studies Network of Canada and co-editor of the peer-reviewed, open-access journal, Trans Asia Photography.
Y-Dang Troeung is an Assistant Professor of English at the University of British Columbia. She researches and teaches in the fields of transnational Asian literatures, critical refugee studies, global south studies, and critical disability studies. She is the author of the book Refugee Lifeworlds: Aphasia and the Afterlife of the Cold War in Cambodia (Temple University Press, forthcoming Fall 2022). In the summer of 2021, she was the lead organizer of the exhibition "Remembering Cambodian Border Camps, 40 Years Later," held at Bophana Audiovisual Research Center in Phnom Penh. Her recent publications can be found in Canadian Literature, Brick: A Literary Magazine, Amerasia Journal, and Inter-Asia Cultural Studies.