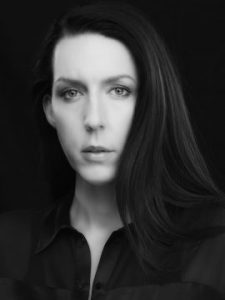 Biography
LUNA M. FERGUSON (Ph.D.) is a trans (they/them) filmmaker, writer, artist, and advocate. Their advocacy for non-binary legal recognition has contributed to policy changes in Canada. Ferguson's filmmaking includes the award-winning Whispers of Life (2013); Limina (2016), which was shown at festivals around the world and praised for its trans inclusivity; and the queer love story Henry's Heart (2019). Their writing and advocacy efforts have been featured in international publications including HuffPost, VICE, BuzzFeed, Teen Vogue, OUT Magazine, NBC News, The Guardian, and the Toronto Star. Ferguson lives in Vancouver, British Columbia, with their partner Florian. Their first book, Me, Myself, They, a memoir, was published by House of Anansi in May 2019.
Supervisor: Dr. Sharalyn Orbaugh
Education
PhD
Gender, Race, Sexuality and Social Justice, The University of British Columbia
Dissertation: Non-Binary Trans Subjects: Exiting the Attachment to the Transgender Metanarrative of Man/Woman

Master of Arts,
Film Studies, Department of Theatre & Film, The University of British Columbia
Thesis: Queer Japanese Cinema: A Rich and Diverse Cultural History's Challenge to Hegemonic Ideologies of Gender and Sexuality
Bachelor of Arts with Honours Specialization,
Film Studies and Minor in Gender, Sexuality and Culture Studies, Department of Film, The University of Western Ontario
Thesis:  The Exclusionary Production of Transgendered Bodies in Transnational Cinema
Ontario College Certificate with Honours,
General Arts and Sciences – One Year, Algonquin College
Research Interests
Cultural studies, diaspora studies, film studies, trans cinema, queer methodologies, Japan's cultural history of genders, Japanese queer cinema, ideology and gender(s), female superheroes in comic books (cinema), documentary cinema, autoethnography
Selected Publications
November 2017 "What It Means To Transition When You're Non-Binary"Teen Vogue.https://www.teenvogue.com/story/non-binary-transitioning
October 2017 "I'll Keep Fighting Until I'm Legally Recognized as a Non-Binary Canadian" HuffPost.http://www.huffingtonpost.ca/joshua-m-ferguson/ill-keep-fighting-until-im-legally-recognized-as-a-non-binary-canadian_a_23255775/
August 2017 "We Should No Longer Be Erased" VICE News. https://news.vice.com/story/its-time-for-non-binary-options-on-id
May 2017 "Why I'm Applying for a Non-Binary Sex Designation on my Canadian Birth Certificate" OUT Magazine. https://www.out.com/news-opinion/2017/5/11/why-im-applying-non-binary-sex-designation-my-canadian-birth-certificate
March 2017 "I Imagine a Time When You See Me" BuzzFeed. https://www.buzzfeed.com/joshuamferguson/i-imagine-a-time-when-you-see-me
January 2017 "Living With Depression And Empathy As A Non-Binary Trans Person" The Huffington Post. http://www.huffingtonpost.ca/joshua-m-ferguson/depression-empathy-non-binary-trans_b_14043296.html
November 2016 "My Grandmother Recognized me as Trans the Day We Said Goodbye." The Huffington Post.  http://www.huffingtonpost.ca/joshua-m-ferguson/recognize-non-binary-transgender_b_12829474.html
October 2016 "We are Non-Binary Trans People And Yes, We Exist."
The Huffington Post. http://www.huffingtonpost.ca/joshua-m-ferguson/non-binary-trans-people_b_12443154.html
Ferguson, Joshua Mark. Non-binary trans subjects: exiting the attachment to the transgender metanarrative of man/woman. Dissertation. The University of British Columbia, 2016.
Ferguson, Joshua Mark. "Queering Methodologies: Challenging Scientific Constraint in the Appreciation of Queer and Trans Subjects." The Qualitative Report. 18:25. 1-13. 2013.
Ferguson, Joshua Mark. "The Haunting of Cronenberg's Cinema: Queer Monsters, Colonized Bodies and Repressed Desire in M. Butterfly and Eastern Promises." Cinephile. 2010.
Ferguson, Joshua Mark. Queer japanese cinema: a rich and diverse cultural history's challenge to hegemonic ideologies of gender and sexuality. Thesis. The University of British Columbia, 2010.