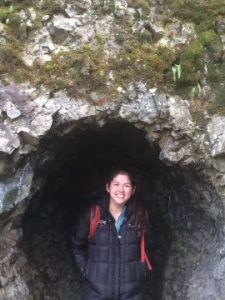 Contact Information
Supervisor: Dr. Denise Ferreira da Silva
Bio
B.A., Educational Studies & Peace & Conflict Studies, Colgate University (2015)
M.A., Gender, Race, Sexuality and Social Justice, UBC (2017)
Thesis: Resistance in and of the university: Neoliberalism, empire, and student activist movements
Research
In a time of neoliberal global precarity that follows from perpetual war, flexible labor, the in/exclusion of certain bodies, there has been a noticeable rise of protest both nationally and also localized to university campuses in the United States. Experiencing the historical weight of racism, classism, sexism, ableism, and nationalism on college campuses, students are claiming public and digital spaces as sites of resistance. These movements trace connections to the accomplishments of the civil and academic rights movements of the 1960s, by again and still asking for institutional responses to white supremacy and systems of oppression (Ferguson, 2012) while realizing they take different shapes due to the international, national, and local forces that call them into being. Additionally, and with the recent rise of national social movements for racial equity, campus activism harnesses that energy in its movement against institutionalized racism within university politics. This proposal calls attention to student activism on campuses that are both historically and contemporaneously situated in cultures of whiteness and heteropatriarchy.
My research interests in these productions lie in the construction of the moral economy for the political subject of the student (i.e. good citizen, bad activist), and particularly, the management of the student-activist. If, as Harney and Moten further suggest, "governance is the management of self-management," I aim to provide some preliminary mapping of the student activist, as traced from 2009 and 2015, and what their movements look like both against and within the institutional response to that activism. Recognizing the gap of United States' student protest movements from the 1960s until the early 2000s during the Clinton Era, this paper will historicize the emergence of the university as directly affected by national and global political and economic violences and structures—namely, neoliberalism and empire.
Publications
Carey, K. (2015). "Marriage equality and 'It Gets Better': Neoliberalism and the absence of political feeling." Sprinkle: An undergraduate journal of feminist and queer studies, 8: 10-20.
Carey, K. & Melendez, M, "On Cleaning: Activism as Contagion," National Women's Studies Association Conference, November 11-13, 2015, Milwaukee, WI.
Carey, K., Melendez, M., Torres, N., & Strother, K, "Slacktivist or Nah? Using Social Media to Create Change," Syracuse University's NAACP Blacktivism Conference, November 14-15, 2015, Syracuse, NY.
Awards
UBC International Tuition Award Scholarship
September
Green College R. Howard Webster Foundation Fellowship
Faculty of Arts Graduate Studies Award