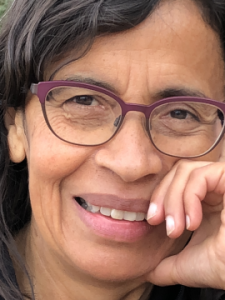 2023 has been a busy year in the Graduate program of the Social Justice Institute. Working closely with the Graduate Student Association (GSA) and our core faculty members, we welcomed outstanding critical scholars, artists and activists every month in the Noted Speaker Series that this past year had as a theme "Knowledge twilights, sensorial aesthetics and epistemic justice."
The program has focused in the last two years on strengthening graduate students' engagement as a vital force in the life of the Social Justice Institute and in creating a supervisory culture rooted in mentorship, deep engagement, and communication. A key component of this vision is supporting our students' efforts in obtaining scholarships. This past year our students were recipients of SSHRC Ph.D. and MA scholarships (4), the Indigenous Graduate Fellowship (4), the Public Scholars Award (2) and the Charlotte Douglas Fee Graduate Award and the Michelle Lynn Rosa Memorial Prize.
In March 2023, we held a highly successful graduate student colloquium where students Z. Brimacombe, Lindsey Nkem, Cate Inver, Elaina Nguyen and Yara Ahmed (3 Ph.D. and 2 MA) presented their outstanding research work on themes related to Queer magic in Neopagan thought, Resistance and anti blackness, Poetic autoethnography, Futurity through refugees genealogies, and Queerness in exhaustion. Students and faculty also collaborated for workshops on publishing as graduate students and applying for an SSHRC scholarship grant. We are currently working with Ph.D. student Corrina Sparrow in drafting a proposal and consulting with the community to develop an Indigenous Graduate Mentorship program.
We look forward to the new academic year, where our new faculty members, Dr. Jasbir Puar and Dr. Jemima Pierre, will teach two of our core courses and professors Chris Patterson, Michelle Mahtani and Ayesha Chaudhry will lead the other core and elective courses. I have deeply enjoyed my term as a Graduate Chair and Advisor and the opportunity to know our brilliant graduate students and work with the Graduate Committee: professors Ayesha Chaudhry, Rosanne Sia and Mark Harris and student Erin Salh. The graduate program is today a vibrant program, thanks in particular to the exceptional work of our senior program assistant Alicia Warkentin. In August of 2023, I will complete my term as a Graduate Chair and Advisor and welcome our new outstanding graduate Chair, Dr. Chris Patterson.