A public speaker and program coordinator of the Out in Schools program, the Institute for Gender, Race, Sexuality and Social Justice (GRSJ) graduate Jen Sung leads a team into high schools throughout British Columbia, using film to open dialogue about LGBTQ (gay, lesbian, bisexual, transgender, queer) issues and other forms of discrimination.
"Being able to show up to schools and look a little bit different and speak a particular kind of language around sensitive issues related to sexuality and gender, bringing [a] feminist analysis into the classroom – that's the root of my activism."
The Out in Schools program is critical because two thirds of LGBTQ students feel unsafe at school, and LGBTQ students are four times more likely to attempt suicide than their straight peers.
At the back of the room or here and there throughout are the unresponsive ones, the disconnected. Jen Sung seems to be addressing the room of students, but these quiet disengaged ones — her passion is reaching them.
"My job and what gets me really excited and passionate [about] is planting those seeds and dropping hints so that even if they're not participating in a conventional way I know that the learning is taking place internally. I'm starting to work with non-verbal communication, recognizing and acknowledging the introverts, the disengaged or disenfranchised, those who are more silenced or feel more silenced. I see the light bulbs going off and I think, 'okay, I'm doing something here'.
Jen graduated from GRSJ in 2009. For her, GRSJ was the key light bulb that ignited her career path and the way she looks at the world.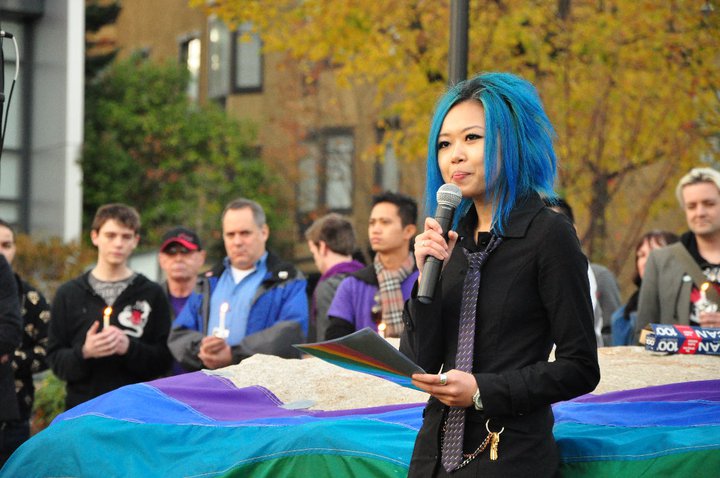 "It's the lens that I use in every interaction that I have with people, the lens I use to help me navigate public, private, mainstream or sub-cultural spaces. It really provided a sense of fluidity in how I can talk to people in a non-hierarchical way. It provides a framework for me and I can shift my language in a different way because of what I learned for four years in the program."
"GRSJ is like the foundation to everything that I do, the analysis – I learned how to speak, how to look at the world in a different way. I learned how to be okay with my own discomfort and that has translated into my work in a very profound way. I can translate it as a facilitator… in a professional sense it is absolutely foundational."
Her activism extends beyond Out in Schools, so much so that she was featured in Xtra West's (now Daily Xtra) Top 30 Under 30.
Her path to her current work was activism too. She was working with WAVAW (Women Against Violence Against Women) for a year and a half as a victim service worker supporting women and before that with ASIA, the Asian Society for Intervention of AIDS, as a curriculum developer.
Through GRSJ, something shifted, she says, "It was something I could hold onto as a guide. I think about when I'm hiking and it's a steep hill and there are stair railings, often there's only a rope or a string to hang onto, I think of this program as that – when you're confronted with this really steep hill of navigating life, whether you're a queer person or whatever, this is the line that kind of helps direct you."
"I'm lucky that I can have a fulltime position in a social profit talking to young people about queer issues related to social justice". She tracks the path back to the Institute at UBC.
What would she say to a student considering GRSJ? "Be prepared to get your mind blown".