The Social Justice Institute
Noted Scholars Series presents:
Dr. Dian Million

Associate Professor and Chair, American Indian Studies, University of Washington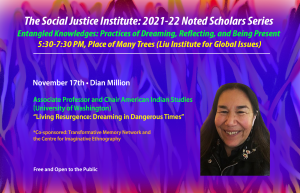 "Living Resurgence: Dreaming in Dangerous Times"
Co-sponsored by The Transformative Memory Network and the Centre for the Imaginative Ethnography
---
WHEN & WHERE
November 17th, 5:30 PM to 7:00 PM
Venue: xʷθəθiqətəm (Place of Many Trees), Liu Institute
RSVPs for this event are now closed.
Seating is limited – RSVP to reserve your seat in advance.  Please note that all guests will be required to wear non-medical masks and have proof of vaccination accompanied with a government-issued ID upon entrance.
All events are free and open to the public.
---
I seek an invitation to a conversation on what Indigeneity means to the abolitionist call for practices of "freedom" in places. It is to speak to the sometimes fraught and sometimes generous questions that are posed between Black and Indigenous Feminisms, about land and about the after lives of enslavement and what we might dream of just futures together if we think relationally, in "constellations" rather than from silos (Simpson, 2017). What is a promise of Indigenous economies as a practice of life making in places in this moment rather than as a shadow of capitalism; the lure of turning Indigenous places into corporate mini-economies, where the "implacable logic of debt takes over for the implacable logic of the white man's burden…of the need for people cut off from circuits of capital accumulation to develop their capacities, to adjust to the standards of the more advanced world, to reform their backward ways (Byrd, et al.,2018)."
---
Dian Million (Tanana Athabascan) is Associate Professor and Chair of the Department of American Indian Studies, Affiliate faculty in Canadian Studies, and the Comparative History of Ideas Program at the University of Washington in Seattle. Professor Million holds a Ph.D. in Ethnic Studies from U.C. Berkeley. She is the author of Therapeutic Nations: Healing in an Age of Indigenous Human Rights , along with several enduring articles: "There Is A River in Me: Theory From Life,"  "Intense Dreaming: Theories, Narratives and Our Search for Home," and "Felt Theory: An Indigenous Feminist Approach to Affect and History." A forthcoming work "Spirit as Matter: Resurgence as rising and (re)creation as ethos" in an edited collection on Indigenous Resurgence in the Age of Reconciliation edited by Heidi Kiiwetinepinesiik Stark, Aimée Craft, and Hoku Aikau continues her deep interest in affect and its' power in Indigenous revitalization and movement. Dr. Million centers her work on the effect/affect of racial capitalism/settler colonialism on Indigenous family and community health in North America. Informed by two generations of Indigenous Feminist scholarship, Dian Million seeks to illuminate the ways in which Indigenous life reorganizes and resurges in the face of colonial violence.