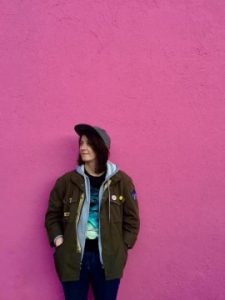 Biography
Tessa MacIntyre is a Masters Students in the Gender, Race, and Social Justice Institute. She has a Bachelor of Fine Arts in Film Production and Studies from the University of Regina. While completing her undergraduate program, Tessa developed a strong interest in documentary filmmaking, and looks to filmmakers such as Sarah Polley, Errol Morris, and Bonni Cohen as influences. Originally from Nova Scotia, Tessa has driven across the entire country 3 times. She has lived in Northern Alberta, Saskatchewan, and finally ended up in Vancouver, British Columbia in 2013. Tessa also enjoys ketchup chips and poutine, and occasionally says 'eh' if you were questioning her Canadian credentials. She has spent the last 4 years working in the Film and Television industry, on productions including 'UnReal', 'Wayward Pines', and 'Falling Skies'.  Along with filmmaking, Tessa is involved in the Vancouver comedy community, but promises not to invite you to her student improv shows.
BFA, Film & Video Production and Studies, University of Regina (2013)
Supervisor: Dr. Janice Stewart
Research
Research interests include: Feminist Film Theory, Human Sexuality, Futurism, and currently, researching how Females, LGBTQ+, and people of colour, are using platforms such as podcasting and YouTube to create space in the world of comedy, politics, and Social Justice.