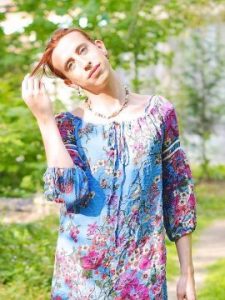 Contact Information
Supervisor: Dr. Sunera Thobani / Dr. Denise Ferreira da Silva
Biography
Lyra McKee grew up in Texas and holds an MA in Gender, Race, Sexuality and Social Justice. She is a white settler whose research interests include transgender studies, critical race theory, political philosophy, queer theory, and qualitative geography. She also adores the performing arts and enjoys singing, dancing, and acting.
BA, Women's and Gender Studies, Dartmouth College (2015)
MA, Gender, Race, Sexuality and Social Justice, University of British Columbia (2018)
Thesis: White Supremacy and Patriarchal Cisgenderism in US Nation-Building and Resistance by Transgender and Non-Binary People of Colour
Research
My thesis consists mainly of a theoretical intervention into transgender studies and a synthesis of existing critiques of structural oppression. Drawing on Andrea Smith's "Heteropatriarchy and the Three Pillars of White Supremacy" (2006), I argue that three subsets of white supremacy include anti-blackness, xenophobia, and settler colonialism. In the United States, these subsets manifest themselves in the prison industrial complex, immigrations enforcement, and the Native reservation system, respectively. In addition, I argue that these three systems necessitate and instantiate cisgenderism, or the privileging of non-trans subjectivities.
Selected Publications
"Living Through Transition." Presented 09 September 2016 at the University of Arizona for Trans*Studies 2016
"Geographies of Homonormativity: The Complicity of Queer Spaces." Presented 06 February 2016 at the University of British Columbia for QueerU 2016
Awards
Ezekiel Webber Memorial Award for Queer Activism 2015 (Dartmouth College)
Sir Qwo-Wei Lee Fellowship 2016 (St. John's)