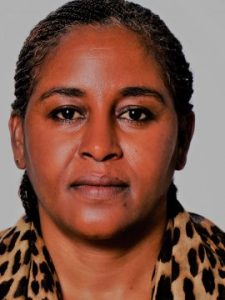 Contact Information
Supervisor: Dr. Gillian Creese
Biography
Amel Eldihaib is a researcher and social activist. Over the last ten years she worked and volunteered with different international and national civil society organizations in Sudan (both South and North), as well in other countries in the Horn of Africa and Yemen. Her work and activism is mainly around areas of social justice, active citizenship, peace building and environment.
Thesis: Reclaiming Feminist Postcoloniality: Negotiating Naitonalism, Gender Politics and Violence in Sudan and the Nuba Mountains
Education
Master of Arts, "Gender and Peace Building", Department of Gender and Peace Education-UN Mandated University for Peace, Costa Rica (2007-2008)
Post-Graduate Diploma, "Development Planning", Development Studies and
Research Center (DSRC)- University of Khartoum (1999-2000)
B.Sc. in Economic- Development Planning, monitoring & Evaluation, Sharq El Niel College- School of Economics, Administration& Planning, Sudan 1996
Intermediate certificate, Faculty of Veterinary Medicine, University of Khartoum, 1993
Research
Colonialism, racism, patriarchy and capitalism have negatively impacted Third World women to varying degrees. Colonialism, racism, patriarchy and capitalism have negatively impacted Third World women to varying degrees. Amel is studying the everyday experiences of racialized women in war zones and the way in which their experiences are accounted for by the feminist  national women's organization in Sudan.  She also explores how these agendas and strategies inform discourse around the the imagined Sudanese "decolonizing" national identity.
Selected Publications
Aldehaib, A. (2017). Channels of Change in South Sudan: Youth Civil Society Organizations and Critical Empathy in Nation-Building. gnovis: a journal of communication, culture & technology.
http://www.gnovisjournal.org/2017/05/02/channels-of-change-in-south-sudan-youth-civil-society-organizations-and-critical-empathy-in-nation-building/
Aldehaib, A. (2013). Customary Law and Women's Rights in a Changing World: The case of Southern Sudan. LAP LAMBERT Academic Publishing. http://www.amazon.ca/Customary-Womens-Rights-Changing-World/dp/3659435708
Aldehaib, A. (2010). Sudan's Comprehensive Peace Agreement Viewed Through the Eyes of the Women of South Sudan. Institute for Justice and Reconciliation. Published by the Institute for Justice and Reconciliation, Cape Town South Africa
http://www.restorativejusticeonline.com/RJOB/IJR%20AP%20Fellows%20OP3%20Sudan.pdf
Conference Presentations:
Public presentation: "Democratizing "Women's" Identities – We are Same, Yet We Are Different"- UBC – Institute for Gender, Race, Sexuality and Social Justice Graduate conference, April 2012.
Public Talk: "The Role of Sudanese Youth in Peace Building in Sudan" Speech given at the MDGs Global Youth Leadership Summit- UNDP-New York. November 2006.
Awards
UBC- Graduate Global Leadership Fellowship
UBC- Four Year Doctoral Fellowship (4 YF)
UPEACE International Masters Scholarship
Award of Excellency, Pan Africa Millennium Development Goals (MDGs) Youth Leadership